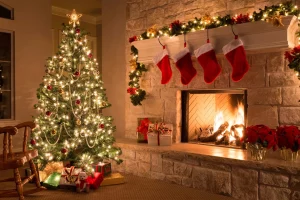 Return to a typical Canadian Christmas is slowed by the Omicron variation.
Christmas Day, and you'll most likely find Canadians drinking hot cocoa and opening presents around a festively decorated Christmas tree.
We know this because, according to Statistics Canada, these are the items on which Canadians spend millions and billions of dollars throughout the holiday season.
The Omicron variety has caused an increase in cases and COVID worries in Canada this Christmas, so things aren't quite back to normal. However, according to a new Angus Reid poll, Canadians will engage in more traditional Christmas festivities this year than they did last year.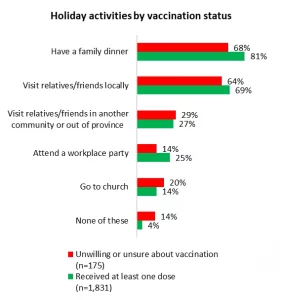 Although Christmas has Christian roots, most Canadians observe it as a secular holiday. The traditional Christmas rituals of gathering, eating, and giving gifts are open to people of all faiths.
Despite the fact that nearly two-thirds of Canadians belong to a Christian denomination, the second-most common religion is none at all. In the 2011 National Household Survey, almost 24% of Canadians said they had no religious affiliation. Statistics Canada updates religion data every ten years, therefore the data for next year's release will be from 2021.
In a 2011 study, almost 3% of the population identified as Muslim, nearly 2% as Hindu, slightly more than 1% as Sikh, and Buddhists and Jews each accounted for about 1%. Other religions accounted for less than 1% of the population.
Canada, unlike several other countries such as India, Malaysia, and Singapore, does not have national holidays for its varied population. The list of public holidays in Canada only includes Christian and secular festivals. Despite the absence of a holiday, Canadians observed Diwali, Gurpurab, Hannukah, Bodhi Day, and Yalda.
The most common Christmas greeting is "Merry Christmas," yet many people still use it in a secular sense. "Happy Holidays" is another traditional greeting that refers to religious celebrations that take place in the last weeks of November and early December.
The "holiday season" or "Christmas season" is the term used to describe the weeks running up to Christmas. Some Canadians believe that putting up decorations before Remembrance Day on November 11 is a faux pas, as this is viewed as a memorial day for war veterans and troops who have fallen in battle.
This holiday season, Canadians begin to plan for Christmas Day, which falls on December 25 every year. They purchase gifts for their loved ones, friends, and coworkers.
They normally deck out their homes with holiday lights and a Christmas tree. Presents are wrapped in festive paper and placed beneath the tree. Smaller items are packed into stockings, which are traditionally hung near the fireplace, but they can now be hung anywhere that looks nice. The traditional Christmas colors are red and green, but white, gold, and silver are also popular.
Christmas dinner is customarily served in Canada. The traditional Christmas supper consists of turkey, mashed potatoes, gravy, and cranberry sauce, albeit it varies from person to person and family to family. Sweets such as gingerbread, candy canes, and chocolate are frequently available.
French Canadians in Quebec have a different Christmas supper than English Canadians. A pork pie known as a Tourtière, for example, is more likely to appear on a typical Quebecker Christmas meal than a turkey.
We must also include Santa Claus. Every year, kids write letters to Santa Claus requesting Christmas gifts. Letters to Santa can be mailed to Santa Claus, North Pole, H0H 0H0, Canada, by Canada Post.
Santa is said to distribute presents on Christmas Eve, according to legend. In a magical sleigh pulled by a crew of reindeer, he goes around the world. He then lands on the roof and squeezes down the chimney to place the gifts beneath the tree. Milk and cookies are frequently left out for him by children.
Families then open their gifts on Christmas morning, most likely while sipping hot cocoa.